How to Use Hypnosis: A Quick and Easy Guide for Women Over 50
This post may contain affiliate links from which i can earn a commission
Hypnosis has been used for centuries to help people overcome challenging issues. Today, hypnosis is being increasingly used as an effective self-help tool, and it can be used to help with a wide variety of personal issues for women in over 50.
Issues such as how to eat healthier, reducing the effect of menopause symptoms such as hot flashes, as well as anxiety and overthinking which can plague women in midlife. With a few simple steps, you can learn how to use hypnosis on yourself to make positive changes in your life.
Understanding Hypnosis
The Science Behind Hypnosis
Hypnosis is a state of deep relaxation and focused concentration, which allows for increased attention, concentration, and suggestibility. During hypnosis, your conscious mind becomes more receptive, allowing for new suggestions and ideas to take root.
Research has shown that hypnosis can affect the brain in various ways, including altering neural pathways and even changing the way we process information. Some studies have found that hypnosis can increase memory and even improve cognitive function. For women who are struggling with decreased focus after menopause, it can be refreshing.
Subscribe to Jane Lamason!
Get updates on the latest posts and more from Jane straight to your inbox.
In a hypnosis session, a trained hypnotherapist guides you into a deep state of focus and relaxation using verbal cues in a soothing voice, repetition, and mental images. This state allows your conscious mind to become more receptive, which can lead to positive changes in your thoughts and behaviors.
Hypnosis vs. Meditation
Although hypnosis and meditation might seem similar, they differ in several key ways. While both practices involve altered states of consciousness and deep relaxation, their goals and methods are quite different.
Focus: Hypnosis emphasizes heightened suggestibility and focused attention, making it a more goal-oriented practice. Meditation, on the other hand, generally takes you to a non-judgmental awareness of the present moment, helping you develop your ability to live in the moment.
Guidance: In hypnosis, a hypnotist or certified hypnotherapist leads you through a process, offering suggestions and ideas for positive change. Meditation is often self-guided, with the meditator using various techniques like breath awareness or body scanning to keep the mind focused on the moment without wandering.
To summarize, while both hypnosis and meditation take you into deep relaxation and altered states of consciousness, the methods and what you want to achieve differ.
Hypnosis is more about achieving a pre-determined goal and involves guidance from a hypnotist, whereas meditation focuses on mindfulness and is mostly self-guided.
Incorporating both of these practices into your self-care routine can result in a wide range of benefits, as both offer quite different pathways to personal growth and self-improvement.
The Hypnosis Process
Hypnotic induction processes
When looking to start the hypnosis process, you'll begin with the hypnotic inductions. Hypnotic induction helps establish a state of focus and relaxation, which is essential for the experience. Some common methods of hypnotic induction include:
Progressive relaxation induction: Using this method you'll focus on each muscle group in your body getting you to tense, then relax them. Your mind will follow your body into a relaxed state.
Counting: By counting backward or visualizing yourself walking down a staircase, you can allow your mind to focus on moving down the staircase, and with each step down you go deeper into a trance-like state.
Visual imagery: Using your imagination and previous experience, picture yourself in a peaceful or calming environment. Somewhere, that you love to be and is relaxing for you. This will help your mind feel safe and relaxed.
Achieving a state of hypnosis
Once you've chosen the appropriate induction technique, the next step is to achieve your goal of a hypnotic state. This is where your mind becomes more open to direct suggestions for everyday life changes. Here are some strategies to reach that hypnotic trance state:
Deepen your relaxation: Focus on your breathing, taking deep breaths then exhaling all the air from your lungs before taking another.
Eliminate distractions: Close your eyes or wear an eye mask, this will help with concentration and lessen the possibility of interruption.
Trust the process: Acknowledge thoughts or doubts that come up, then allow them to pass quietly without judgment.
Repeat affirmations: Positive affirmations or suggestions can be used during this state to inspire changes in your behavior or thought patterns. For example, if you're working on overcoming procrastination, you might repeat to yourself, "I can complete tasks efficiently and effectively."
Entering a hypnotic state ultimately requires focus, relaxation, and concentration. Using hypnotic induction techniques in the steps above will help you in achieving a deep trance, allowing the possibility for personal growth and change.
Types of Hypnosis
Self Hypnosis
Self hypnosis is a technique that allows you to enter a relaxed state by using positive suggestions and affirmations. You can practice self-hypnosis for personal development or to learn new skills.
It's easier than you think. In fact you fall into a light hypnotic state when your engrossed in a T.V. program, or scrolling Facebook.
To start, find a quiet space where you will be comfortable and undisturbed. Sit in a comfy chair, close your eyes, and take deep, slow breaths, focusing on relaxing your body a little at a time.
For example, begin with your toes, then move up to your ankles, calves, and so on. As you do this, visualize the tension melting away in each part of your body as you become more relaxed.
Once you are completely relaxed, begin to mentally repeat positive affirmations or suggestions to yourself.
These could be about self-confidence, eating healthier, or reducing stress.
Remember to keep the language positive and empowering. For example, you might say, "I'm becoming more confident every day" or "I choose to eat healthy and nourishing foods."
Be patient and gentle with yourself, as self-hypnosis training may take some time and practice to master.
Ericksonian Hypnosis
Ericksonian hypnosis, named after its founder, Dr. Milton Erickson, uses metaphors, stories, and indirect suggestions to create personalized messages that your subconscious mind will identify with. This form of hypnosis is thought to be more versatile, as it focuses on the individual's previous experiences and beliefs.
To start, begin by familiarizing yourself with the concept of hypnotic stories and metaphors. For example, instead of directly suggesting that you should become more confident, you might tell a story about someone who overcomes their fears and gains confidence as a result. By relating to the character and their journey, your subconscious mind can make connections and adapt the story to your own life.
An important part of Ericksonian hypnosis is to focus on the present. By bringing your attention to the now, you can create a more immediate positive response.
Hypnosis has shown potential as a complementary therapy for easing anxiety, improving sleep quality, and potentially enhancing cognitive function.
Remember to always consult with a healthcare professional before starting any new treatments or therapies.
How Hypnosis Can Help You
Health Benefits
Hypnosis is a valuable tool for addressing various health concerns.
One of the key benefits is that it is helpful in reducing pain and anxiety before and after surgery.
It also appears to promote healing across numerous conditions.
By making you more open to suggestions, hypnosis can help you gain control over habits you would like to change. Maybe you want to stop smoking or overeating, or perhaps you would like to build your self esteem.
Mental Health Benefits
Hypnosis is also a powerful tool when it comes to improving your mental well-being. By practicing self-hypnosis or working with a trained hypnotherapist, you can address issues like anxiety, depression, and stress.
You'll feel calm and relaxed during a session and eventually, that will expand into your life outside the sessions.
Overall, hypnosis can positively impact many areas of your physical and mental health.
By addressing problems and changing your mindset, you'll be better equipped to live a happier, healthier life.
Uses of Hypnosis
Pain Management
Hypnosis can be an effective tool for managing various types of pain. For instance, it has been used to help with cancer treatment side effects like nausea and discomfort from chemotherapy.
Additionally, hypnosis can provide pain relief for conditions such as fibromyalgia and irritable bowel syndrome.
It can even be useful in reducing pain during childbirth and dental procedures. By learning to control your mental state and focus on your breathing or hypnotic suggestions, you can experience a significant improvement in pain management.
Behavioral Change
Another common use for hypnosis is promoting positive behavioral changes. Many people turn to hypnosis for assistance in quitting smoking or overcoming overeating habits. With the help of a trained hypnotist, you can reframe your thoughts and patterns surrounding these behaviors, making it easier to break free from them.
The success of this approach relies on your willingness to embrace the hypnotic suggestions and make a genuine effort to make the lifestyle changes.
Phobias and Fears
Hypnosis can be beneficial in addressing fears and phobias by helping you understand the root cause behind them and so develop coping strategies.
Together with a hypnotist, you can explore these fears on a deeper level, allowing you to gain better control over your emotional responses to triggering situations.
However, it's not a one-size-fits-all solution and you should always consult with a doctor first.
While hypnosis offers many potential benefits, be sure to weigh the risks and consider a holistic approach to your well-being. With the right mindset and a willingness to embrace change, you may find that hypnosis works very well for you.
Hypnosis Techniques and Tips
Verbal Repetition and Imagery
When using hypnosis, repeating certain phrases or suggestions is a powerful way to reinforce the desired outcome. Use a soothing, relaxed tone when speaking, and focus on verbal repetition to improve the effectiveness of your session. Remember to also incorporate imagery to help your mind visualize the intended goal or outcome.
For example, if you want to reduce stress, describe a calming scene in your mind, such as a beach or a forest, while repeating phrases like "You feel relaxed and at ease." Involve all your senses in the imagery, as well as the emotions and sensations you want to experience.
Relaxation Techniques
Relaxation techniques will help you to become relaxed and still. The easiest way to do this is first with deep breathing. Take slow, steady breaths in through your nose and out through your mouth. After you have taken a few deep breaths then try progressive muscle relaxation, which involves tensing and relaxing each muscle group in your body, starting from your toes and working your way up.
Another effective relaxation technique is mindfulness. Focus on your breath coming in and out and let your thoughts pass by without judgment or attention. Don't let your mind examine your thoughts. This will help clear your mind, making it more receptive to hypnotic guidance.
Eliminating Distractions
Before starting a hypnosis session, make sure to eliminate any potential distractions, such as noise, bright lights, or interruptions. Choose a quiet, comfortable space where you can focus exclusively on yourself.
Some tips to help you eliminate distractions include:
Turn off or silence electronic devices.
Close the door to minimize interruptions.
Adjust the lighting to a comfortable level.
Use a comfortable chair or cushion for sitting or lying down.
By limiting distractions, you will be better equipped to concentrate on your goals and achieve the desired outcome of your hypnosis session. Noise-canceling headphones work very well to silence sounds from around you.
Myths and Misconceptions
There are numerous myths and misconceptions surrounding hypnosis. Understanding the truth behind these falsehoods can help you feel more comfortable and confident with incorporating hypnosis into your life. In this section, we debunk some of the most common ones.
Myth 1: Hypnosis is only for entertainment purposes
While hypnosis has been popularized in the entertainment world, it has many practical uses. Hypnosis can be part of effective treatments for stress, anxiety, pain management, and other mental health issues. So, don't dismiss hypnosis as mere entertainment; it has real therapeutic value.
Myth 2: Only weak-minded individuals can be hypnotized
Contrary to popular belief, being easily hypnotized is not a sign of weak-mindedness. In fact, your ability to be hypnotized relies on your willingness to participate and your ability to focus your attention. So, if you consider yourself strong-willed and are open to experiencing hypnosis, you may find that it works just as well for you.
Myth 3: You're asleep during hypnosis
While you might appear relaxed and peaceful, you are not actually asleep during hypnosis. Your mind remains aware and alert, and you maintain an active role in the process.
Myth 4: Hypnotists always use a swinging watch
Many people associate hypnotists with a swinging watch, yet this is just a stereotype. Hypnotists use various techniques to induce hypnosis, such as guided relaxation, visualization, or deep breathing exercises. The swinging watch is just one of many methods that might or might not be used.
Myth 5: You can reveal personal secrets during hypnosis
It's a common misconception that you're more likely, to tell the truth, or reveal personal secrets during hypnosis. In reality, you can lie under hypnosis just as easily as when you're awake, if not more so, due to your increased access to the resources of your mind.
Remember, hypnosis is a tool that can help you achieve your goals and overcome challenges, but you need to have an open mind and a clear understanding of the process.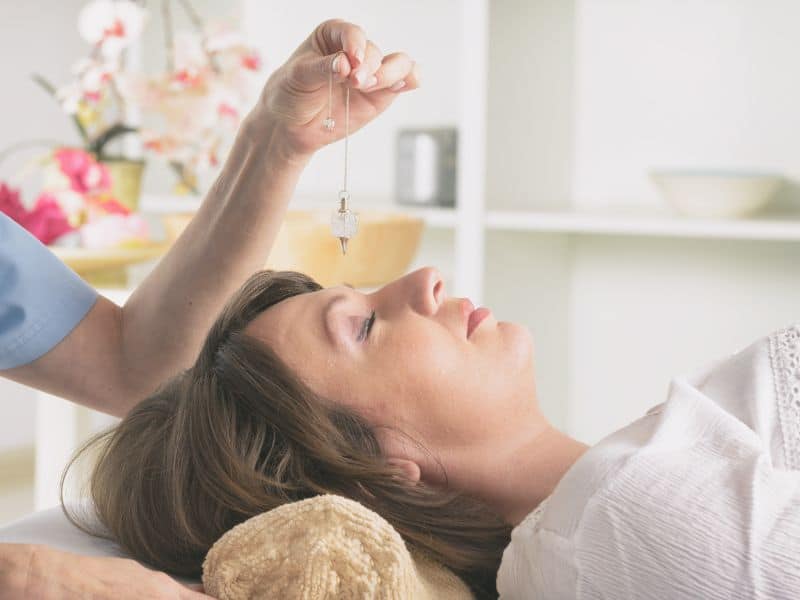 Hypnotherapist or Hypnotist
You're probably wondering what the difference is between hypnosis and hypnotherapy.
Hypnosis is defined as a state of mind, while hypnotherapy is the name of the therapeutic modality in which hypnosis is used.
A hypnotist uses hypnosis to help people with issues such as quitting smoking and weight management, but as defined in some countries, is not licensed to practice hypnotherapy.
Hypnotherapy is practiced by a hypnotherapist who may be a trained, licensed, and/or certified professional. Depending on what the law stipulates, in some countries, only a hypnotherapist may use hypnotherapy to work with such mental health concerns as phobias, stage fright, eating disorders, and certain medical conditions.
Hypnotherapy in Australia is a self-regulated industry and hypnotherapists are not, by law, required to meet any specific standard of training.
Choosing a Hypnotherapist
When choosing a hypnotherapist, consider factors such as:
Licensing and qualifications
The therapist's area of expertise
The environment they practice in
Remember, it's important to select a qualified and experienced professional for optimal results.
When seeking hypnotherapy, it's essential to choose a hypnotherapist who is both experienced and trustworthy. This section will help guide you through the process of selecting the right professional for your needs.
Certifications
One of the first things you should look for is the hypnotherapist's qualifications. A reputable practitioner should hold certifications from recognized institutions. Certifications, like any type of professional accreditation, indicate that the hypnotherapist has met specific standards of knowledge and practice in their field.
It's also important to consider the practitioner's background in other healthcare fields. Many hypnotherapists come from professions like medicine, dentistry, psychology, or social work. Their experience and credibility in these areas can provide a solid foundation for their hypnotherapy practice.
Licenses
In addition to certifications, verify the hypnotherapist's license status. Licensing requirements can vary by state or country, but as a general rule, a licensed healthcare professional who practices hypnotherapy should hold a valid license in their field. To check the status of a license, you can visit your state or country's relevant licensing board website.
Consent
A responsible hypnotherapist will provide you with a detailed consent form, explaining the process, potential risks, and benefits of hypnotherapy. Review the form carefully and ask any questions you may have before signing it. This step ensures you are fully aware of the procedure and comfortable with your decision to proceed.