The Best Mother's Day Gift Ideas For Menopausal Mothers
This post may contain affiliate links from which i can earn a commission
Mother's Day is racing up to us at breakneck speed as we flip over another page on the calendar already, and that means gifts. Maybe for your menopausal mom. But if like me, you don't have a mom. A close friend whom you care about, or just for yourself. Go on, you deserve it. This Mother's Day gift ideas for menopausal mothers will give you some ideas that every mom will love.
With the possibly significantly negative impact that menopausal women experience as they go through a myriad of symptoms such as hot flashes, night sweats and poor sleep, they could probably do with some extra special care and attention.
What better time to show them how much you love and appreciate them.
For the women in our lives who are of menopausal age, we want to give them all the support we can.
Subscribe to Jane Lamason!
Get updates on the latest posts and more from Jane straight to your inbox.
A nice way to do that is with gifts that can provide relief from menopausal symptoms and make them feel comfortable and special?
If you have a mother or a close friend going through menopause, here are my choices for the best gifts to give this Mother's Day.
One of the symptoms that so many women in perimenopause and menopause struggle with is hot flashes and at night, night sweats. When you're in the middle of either one of these a fan is like the kiss of a sweet angel. Who doesn't want to be the giver of that particular pleasure?
There are so many choices. From ones that go around your neck and cool your face, handheld fans that fold up and fit in your bag, desk fans, and the one I particularly like, a portable air conditioner, dehumidifier, and fan in one.
This link will take you to a selection of portable and personal fans.
And this link will take you to my favorite choice.
My Favorite Cool and Comfy Clothes Brand
Boody
This is their new underwear line but click on the image and check out everything else that they offer.
These basics are soft and made from organically-grown Bamboo. They're hypoallergenic, sustainable, eco-friendly and super breathable which makes them perfect for women suffering hot flashes and night sweats. Because they're loose and soft they'll also be good for women with itchy skin (a common menopause complaint).
I have their Goodnight Nightdress in black which I love.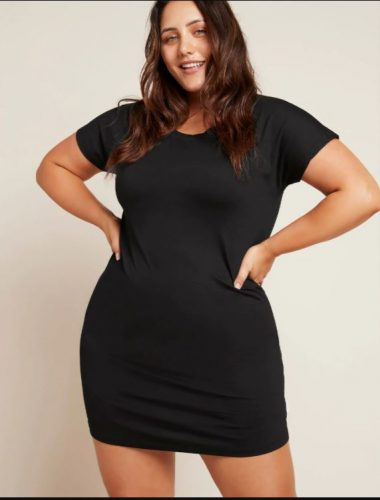 I live in the subtropics and this nightie does me all year round and is particularly good when trying to get enough sleep while keeping cool. I had it taken up because in the heat I prefer something a little shorter.
I also have one of their Tees
This works well over a pair of leggings.
And two of these tank tops because they are so cool.
I love their Tanks in our Brisbane heat. These are fabulous to put over a pair of shorts. They leave your arms free so there are no embarrassing wet patches if you happen to get a little sweaty.
Cool, comfortable clothes are a must for any mother going through menopause. Boody is a great brand that offers stylish and cool clothes that will make the lucky mother who gets to wear them feel comfortable without losing their style. Oh, and they won't break the bank.
Dark Chocolate Anything
Eating dark chocolate will satisfy sweet cravings while also helping to lift your mum's mood. Dark chocolate helps increase the production of serotonin and stabilizes mood swings thanks to the magnesium it contains. Pretty incredible given that these particular health benefits are not usually associated with such a tasty treat.
I couldn't decide between the wonderfully creative dark chocolate gifts on this page so thought I would leave that to you.
Supplements
To keep pace with a mother's changing health in menopause it may become necessary for them to supplement their diet with added vitamins.
As women age, they're more likely to become deficient in some nutrients.
Key supplements to consider are:
Vitamin D3 – This is essential for strong bones and teeth, helps to stabilize mood swings, and may improve heart health.
Calcium – A lack of calcium can lead to brittle bones.
Iron – Can help prevent anaemia which becomes more common in women during menopause.
Omega-3 fatty acids – help to maintain a healthy brain and cardiovascular system, and are anti-inflammatory.
If your mother is experiencing any health concerns related to menopause, supplements may be a good gift idea. They can help to fill in any nutritional gaps and support her health overall.
Clicking Key Supplements will take you a page of supplements especially for women in menopause.
Aromatherapy Diffuser
Aromatherapy can be a great way to relieve stress and tension. It can also help to improve sleep and alleviate some of the symptoms of menopause.
This diffuser can connect via wifi to your Google Home app and be from where you can control features like LED colour, mist intensity, timer settings, and scheduling.
Add a couple of gorgeous essential oils to complement the gift and allow your mother to start using it immediately.
Essential oils which are particularly good for stress relief are the ever-popular Lavender oil which you could pair with Clary Sage for something really special.
Hand-Held Massager
This handheld massager is perfect for relieving tension in the shoulders, neck, and back. It has 5 unique attachment heads and a zippered storage case.
It's easy to transport and can be used anywhere. According to the Strategist, it is one of the best back massagers on Amazon.
This would be a great one for mum to have stashed away in her desk for when her shoulders are aching. She can whip it out and within minutes feel like she's just walked out of a spa.
My last suggestion is something I would love for myself.
I've just discovered that while I'm doing housework, making dinner or anything else that doesn't require too much of my brain, I can listen to a book. I love reading but becoming a mother then adding in the role of business owner took away any time I may have had to enjoy books.
It's tremendous being able to keep on with things while listening to your favourite books. It's lovely being read to. If the recipient of your Mother's Day gift likes books of any sort this gift is a good one.
That's It!
This list could go on forever but time doesn't. There are some really lovely things here that I know mums of any age will love. I'm just going to print this off add an arrow or two then leave it laying strategically around for a couple of people in this house to accidentally trip over.