Menopause And Protein: How Much Protein For Women Over 50
This post may contain affiliate links from which i can earn a commission
Explore the critical role of protein during menopause and how it can aid in managing symptoms! This article uncovers the relationship between menopause and protein and provides answers to how much protein a menopausal woman needs to maintain balance and health. Gain insights, make informed dietary adjustments, and feel empowered through your menopause journey.
Protein seems to have become the latest buzzword recently. Our culture is somewhat obsessed with protein intake, but what role does it play in menopause and ageing, and what are the best sources?
There are good health benefits of protein for women over 50. Not only does it help build and repair muscle, but it can also help with weight management, reduce the risk of certain diseases, boost immunity, and improve energy levels. This article reveals the best high protein foods to eat after 50 and how many grams of protein per day for a 50 year old woman is optimal. Read on for simple tips.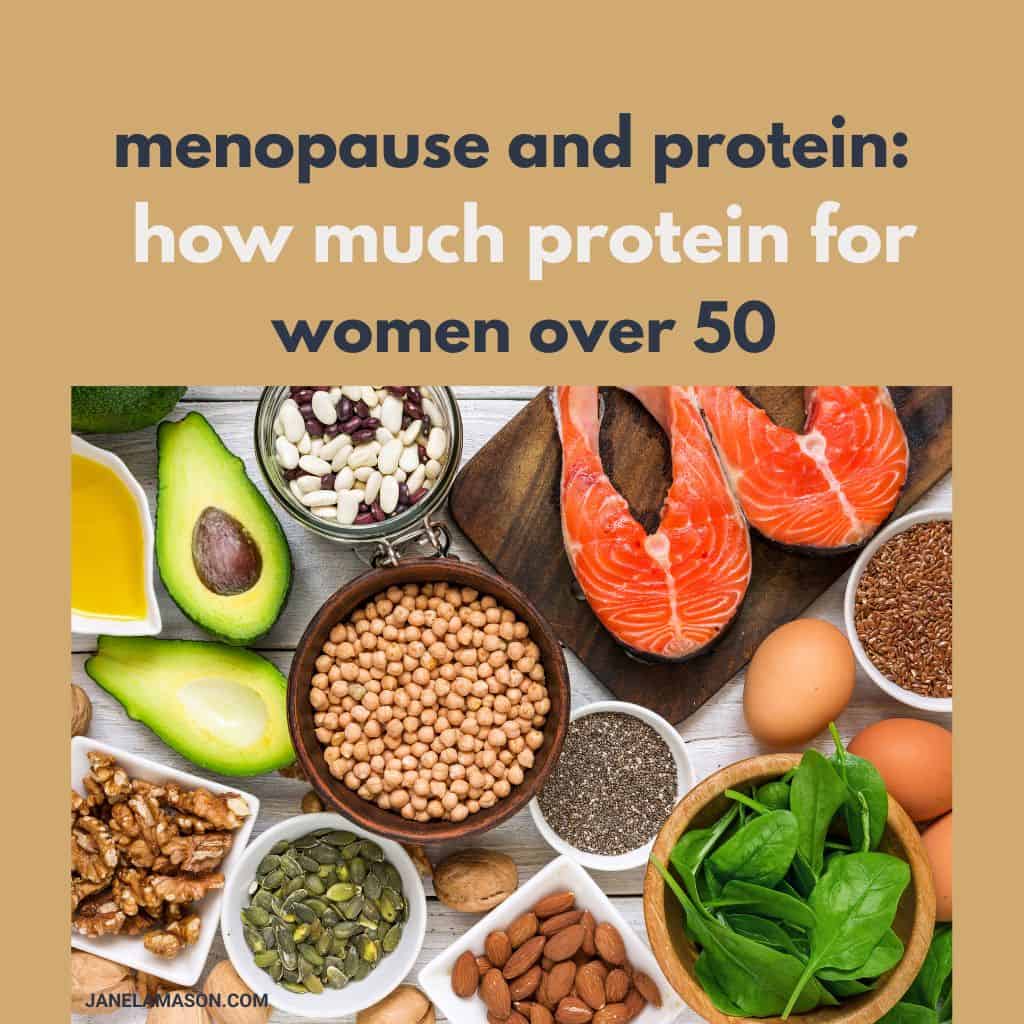 What is protein and what does it do?
Protein is the building block for everything including your skin, hormones and neurotransmitters. You need adequate dietary protein to help build and repair muscles and bones and to make hormones and enzymes. It can also be used as an energy source.
Subscribe to Jane Lamason!
Get updates on the latest posts and more from Jane straight to your inbox.
We know that protein is important if you want to build muscle mass but there is so much more to what protein does in the body. Your bones, ligaments, tendons, liver, brain, skin and fingernails are built from protein.
Why is muscle mass so important to your health?
If you have good muscle strength, you age better. Inactive muscles waste away and initiate poor metabolism.
Sarcopenia is the name given to the loss of muscle. When you lose muscle not much good happens in your body. Insulin, cortisol levels and blood sugar go up, estrogen levels go down and there could be weight gain.
Unfortunately coupled with muscle wasting, many of us don't get enough protein.
Protein is the macronutrient that will guard us against loss of muscle. It does this in a process called protein synthesis.
Do you need more protein as you get older?
As you age and pass through menopause, protein intake becomes even more essential to the diet to boost immunity, repair and strengthen muscles as well as maintain bone health.
As we get older we are less able to convert the protein we eat into muscle and other important biological needs for our body.
Therefore we need to eat more protein to maintain and preferably build our muscle.
The more muscle mass you have the better you will age.
You will be stronger, and be able to fend off disease easier. When your muscles contract they release myokines which are helpful in reducing inflammation in the body. Inflammation is the root cause of most chronic diseases such as cancer, diabetes, Alzheimers and heart disease.
Sarcopenia is the name given to the loss of muscle. When you lose muscle not much good happens. Insulin, cortisol levels and blood sugar go up, and estrogen goes down.
The Role Of Protein In Keep Our Minds Young
As we enter the menopausal journey, it's not just our bodies that undergo transformation; our minds can also experience shifts.
Do you notice moments of forgetfulness or 'brain fog.'
It's like a mental fog rolling in, and it's so frustrating. Especially at night when you're a bit tired. But here's where protein steps in as a surprise ally.
Protein isn't just about keeping our muscles strong; it might also help keep our minds sharp during this time of our lives.
Imagine protein as a friend for your brain. When you consume enough protein, it's like giving your brain the tools it needs to stay focused and alert.
Research tells us that the amino acids in protein can actually support those little messengers in our brain called neurotransmitters. These neurotransmitters are like tiny couriers, passing along important messages that help us think, remember, and stay in a good mood.
Now, during menopause, our hormonal balance can sometimes throw these neurotransmitters off-balance. That's where protein steps up to the plate.
It provides support for neurotransmitters to work more efficiently. Think of it as giving them a boost, like a jolt of energy for your brain.
So, while we've often heard about protein's role in keeping our bodies fit and strong, it also plays a a key role in keeping our minds sharp.
It's like a little secret weapon for navigating the menopausal maze with clarity and confidence.
So, next time you're enjoying a protein-packed meal, know that you're not just nourishing your body; you're giving your brain a friendly nudge, helping it stay as vibrant as you are.
How much protein should a menopausal woman have?
The expert recommended dietary allowance of protein for healthy ageing of women over 50, is 1 to 1.5 grams of protein per kilogram of weight per day. A woman who is around 65 kg in weight would need to eat around 25 gms of good quality protein per meal.
Here's an infographic so you can see what that looks like in terms of the foods you might eat.
Some are non-essential. Our body produces these all by itself.
To get the protein intake you need into your day it is a good idea to include good quality protein at every meal. Spreading your protein intake evenly over the course of your day had been found to improve muscle protein synthesis. Keeping it consistent has been shown to promote muscle repair and growth.
If you work out it is important to eat protein afterwards so you can capitalise on building muscle. You would also need to consider an overall higher protein intake to give your muscles the energy they need.
There are a couple of things to remember. If you find you need to increase your protein intake because after reading this article you've realised you're not eating enough, then you need to reduce your carb and fat intake to compensate. That is if you don't want to put on weight.
Secondly, there is such a thing as too much protein and the excess your body doesn't need will be stored as fat. So do your best to decrease empty carbs and saturated fats and start on a higher protein diet and you'll have the right environment for building muscle.
GET THE PROTEIN YOU NEED IN MENOPAUSE AND BEYOND…
for optimal physical and mental performance
With this specially curated collection of 28 healthy recipes each containing between 20 and 35 gms of protein.
REFINED GRAINS FREE, REFINED SUGAR FREE, PROCESSED INGREDIENTS FREE AND WHEAT FREE.
ENTER YOUR NAME AND EMAIL BELOW TO JOIN jANE'S EMAIL LIST AND GET AN INSTANT LINK TO THE COLLECTION
Menopause and Protein: What Do You Need To Know?
In menopause, you lose estrogen and this is associated with loss of skeletal muscle mass.
There are two ways that you can help to promote and protect lean muscle mass; through the intake of high-quality protein in the diet or by stressing the muscles with strength or resistance training.
According to one study, it was found that eating a diet containing adequate dietary protein is associated with better physical performance among postmenopausal women 60 and over.
Remember all those crazy diets when we were younger. Well, they did us no favours.
You may have lost weight, but although some of that was definitely fat, there would also have been muscle loss.
And I can't speak for you but I lost count of the diets I went on.
Once lost it is hard work to earn that muscle back, especially now you are coupling that battle with the loss of hormones that would support you in that particular battle.
So protein is vital, not only to help us build muscle but in many other integral functions in the body. The antibodies that give us our immunity and many of our hormones are made of protein.
But not all protein sources are created equal.
The role of Amino Acids in Protein
Protein is made up of amino acids which are essential to the body's optimal function. Not all protein contains the best balance of amino acids for your body.
Animal proteins like meat, fish, dairy and eggs are generally considered high-quality protein because many of them contain all nine essential amino acids in adequate amounts.
Vegetarians need to include a wide variety of protein-rich foods to be able to meet all their amino acid needs. And in general, to do this they will very likely be consuming more calories.
There are 9 essential amino acids and each of them contributes to different functions of the body.
Some of the amino acids are essential, meaning we must get them in a daily nutritional diet.
What are the best sources of protein for a woman over 50?
The best source of proteins that contain the essential amino acids we need are:
Turkey
Lean beef
Skinless chicken breast
Lean pork chop
Extra-firm Tofu
Brazil Nuts
White Beans
Navy Beans
Large eggs
Tempeh
Beef, tuna and chicken have the highest combined concentration of amino acids which play an important role in muscle growth.
I know on this website I push for increasing your plant foods and that's because they are packed with nutrients and as a bonus, some have reasonable levels of protein and fibre.
But, unless you are vegan or vegetarian there is a place for good quality lean animal protein. Animal protein will easily deliver the amino acids you need without adding in too many calories.
Another point I would like to make here is about sustainability and environmental issue.
We have seen a lot about the negative impact on the environment of cattle and dairy farming. So you may be opposed to including animal protein in your diet.
Perhaps choosing products that are sourced closer to home and are produced using environmental practices could be an acceptable option.
I like to think of my meals as plant-based with garnish or a side of protein-rich animal products.
One study of adults over 50 showed that eating dairy protein possible lowered the risk of hip fracture by 8%, while eating plant protein redulted in a possible 12% reduction.
What role does protein play in your body weight
Often, women over 50 who feel they are overweight will diet. That means they'll cut down on their intake of calories to the point of being hungry.
When the body is hungry it will hang on to fat and start burning muscle as energy. At a time when it is difficult to maintain the muscle, you have not had adequate protein will only escalate muscle loss.
Conversely, if you add more protein into your diet while at the same time decreasing overall calories (usually by cutting out empty carbs) your body composition and metabolism will improve.
As a bonus eating additional protein results in a much smaller weight regain after weight loss.
Conclusion
Adapting your lifestyle to include actions that preserve muscle mass and strength by using exercise and nutrition is crucial to living a longer, happier and healthier life as you age.
Reference:
https://pubmed.ncbi.nlm.nih.gov/24522467/
https://pubmed.ncbi.nlm.nih.gov/28074249/